Latest news
LAST UPDATE: 25th September 2021
This is the image chosen for our updated car sticker, available soon from Chris Grimley.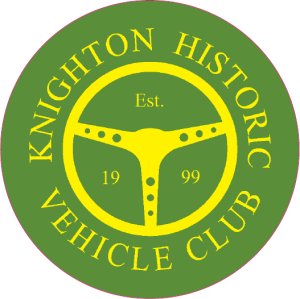 ---
Check pump labels when you fill up as all regular grade petrol is now blended with up to 10% ethanol (E10 on the pump label) and the Department of Transport and motoring organisations advise is that it is not suitable for older vehicles. The higher octane 'Super' grade will remain as an E5 blend for the next 5 years. Full details are available on the Federation of Historic Vehicle Clubs web site by clicking here.
---
The club Facebook page can be accessed by clicking here or typing 'Knighton Historic Vehicle Club' into the Facebook search bar. Click the 'Join Group' button to join in with the activities. 
---
PLEASE SEND US YOUR PHOTOS OR NEWS

Email your website contributions to Tim on timair46@yahoo.com. They will either be posted here or on the Gallery pages.
WANTED – Members who would like to help to keep our club website up to date. Don't be put off by the thought of grappling with new technology, if you can write a word document you can use WordPress. Tim Dunn can give you access and train you up. Contact him on timair46@yahoo.com or phone 01588 672919.